Comprehensive E-commerce Development in Bangalore, India
Today's digital world with advanced technologies makes all companies compete against one another. E-commerce development in Bangalore is also one of the competitive fields where the majority of companies offer their services for website or app development. With one objective and different strategies, they follow results-driven steps and top-class e-commerce solutions. Having support from one of the best e-commerce magento website development in Bangalore like Indglobal, you would receive top-rated e-commerce services. It expands to a variety of industries that include logistics, retail, healthcare, travel, finance, food & beverages, etc.
Being one of the top e-commerce development companies in Bangalore, India, we cater end-to-end services to all types of companies, be it small, medium, start-up, or large enterprises. Our dedicated team of experts understands your needs of streamlined shopping platform development and delivers a secured website or app with a safe payment gateway. With the integration of the latest e-commerce dropshipping features, we create e-commerce online stores where one can import products from manufacturers or wholesalers and put those to sell.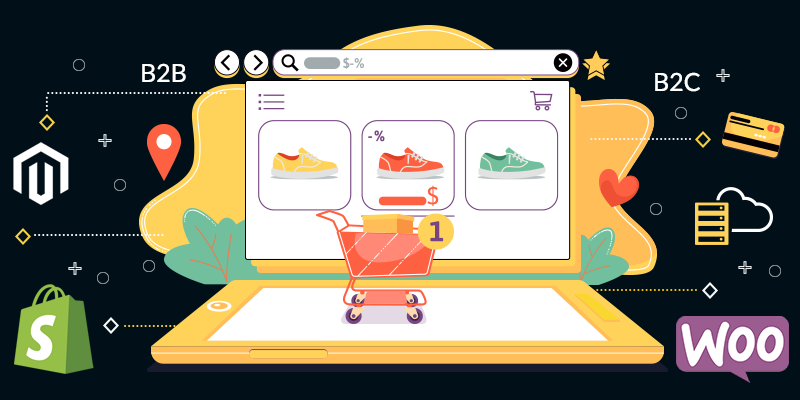 Our Primary E-commerce Solutions in New York , USA
E-commerce Development (B2B, B2C, and Marketplace)
E-commerce Site Maintenance
E-commerce Mobile Application Development
E-commerce Cloud Hosting
E-commerce Website Optimization
E-commerce Upgrade
REQUEST A QUOTE


Why Indglobal for E-commerce development in Bangalore, India
Being the most awarded e-commerce development agency in India, Indglobal provides the best services for its customers. Working on the most popular frameworks including Magento 2.2, WooCommerce, PHP, Laravel, Django, Drupal, and ASP.Net, we have become the e-commerce, leaders in providing professional e-commerce solutions.
Fully-optimized Websites or apps
We are digital marketing experts who are into the development of SEO-friendly e-commerce websites or application development. We implement various marketing strategies such as PPC to optimize the e-commerce store with high visibility standards.
A dedicated in-house team of developers
Creating the best product required a good team of developers in an organization; our best-in-class developers and designers will create end-to-end e-commerce solutions. Having in-depth knowledge and experience of certified Magento and WooCommerce designers and testers, we provide world-class e-commerce development services in Bangalore, India.
Safe and Secure E-commerce platform
While operating online, it is important to establish trust among customers regarding security for a brand or website. Our e-commerce development services in bangalore, are based on a hundred percent security with a safe payment gateway. We undertake all the requirements for a secure e-commerce site ensuring secure data storage, PCI compliance, SSL certificates, cloud-based protection, etc.
B2B, B2C, and marketplace e-commerce
We take care of all types of e-commerce development including for business to business, and business to consumer, connecting vendors, buyers, and sellers. Having all kinds of businesses covered, we enable all kinds of businesses to create a robust platform for online selling-buying which is more convenient, available, fully optimized, and renders a higher customer conversion rate.
Faq
With the recent developments, the e-commerce sector has also grown to the maximum and is predicted to grow at a high rate every year. For this, e-commerce development companies need to get in touch with all the latest trends which are followed for mobile apps and web app development. Below are some of the emerging trends that are at the forefront and will boom the sector in 2020-
Predictive Analysis
Voice Search
Artificial Intelligence
Business Models based on subscriptions
Social Selling
AI chatbots
Virtual Reality/Augmented Reality/Mixed Reality
Same-day delivery or faster delivery process
General Data Protection Regulation
Conversion Optimization
Control on cart abandonment
Social media selling
Normally, e-commerce development is the beginning of new responsibilities and there are various steps involved for e-commerce web development, described as follows-
Defining a Strategy

Choosing a domain and platform

Decision regarding pricing 

Setting up Payments

Designing store 

Adding more products

Responsive Checkout system

Marketing One's business

SEO optimization and analytics

Continuous improvement
Some of the software applications we develop for e-commerce include enterprise content management, online banking, shopping cart, electronic tickets, domestic/international payment system, and online shopping/order tracking.
Yes, there are various e-commerce development packages available with us that include a full e-commerce package enabling you to sell goods online and receive payments. We integrate secure payment gateways or banking payment systems with e-commerce websites or apps.
For us, customers are the priorities and fulfilling their customized demands is of utmost importance. Our creative team works towards all branding elements that include graphics, colors, and brand identity as it helps in establishing the right tone for a business. We help to create attractive pages for the audience that proves as an appealing factor.
OUR CLIENTELE Request a quote or Talk to an expert
We guarantee a response in 6 hours or less. And the best bang for your buck.